Founded in 2002, White Cap Solutions has been providing IT services to users locally and nationwide. Our goal is to help you maximize your bottom line by leveraging today's technology at an affordable price.  
We provide an array of services and products to help you succeed in business and/or to make technology a bit less intimidating. Browse through our offering online and you'll find a solution for your technological needs.
We realize you are visiting our site because you want information. Unlike many websites, we've made the concsious decision to go light on the razzel-dazzel so you can focus on the content. If there is something we've not answered or you have more questions please Contact Us.


Our Code of Ethics:
We will be honest and not knowingly misrepresent facts.
When applicable, we will install and use only properly licensed software on your web server or web site.
We will disclose any potential conflicts of interest prior to accepting the job/contract or as soon as possible after the conflict is discovered.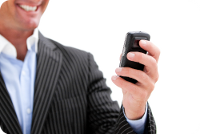 We will only represent opinions as independent only when they will cause no conflict of interest and there is no undisclosed interest in the outcome of the client's decision.
We will ensure that to the best of our knowledge that we can complete the web design and web development project in a professional manner both in terms of skills and time.
We will keep you informed of any matters relating to the web development contract even if the information is unfavorable, or may jeopardize the contract.
We will safeguard any confidential information, trade secrets or documents entrusted to us and not divulge any such information without your consent.
We will not take advantage of proprietary information obtained from you.
We will not engage in contracts that are in violation of the law or contracts that might reasonably be used by you to violate the law.